We examine LegalZoom's registered agent and LLC service vs. Northwest Registered Agent. Both provide business formations and registered agent services.
---
Privacy By Default®

Northwest Registered Agent (Editor's Choice!)
Business Formation with 365 Days of Registered Agent Service $39
We Have Discounted Prices for Northwest  $225  Just $39!
Visit Northwest Registered Agent
The Leader In Business Formations & Registered Agent Services
LLC Formation and Incorporation Services

Privacy by Default

LLC Pricing Starts at $39.00 + state fee
Most Popular Plan $39 + state fee

Monthly Plans Available

Strong customer service, direct phone line, and same-day email response
Monthly Plans Available  ('Skip The State Fee')
$37 Gets You Out The Door With A Newly Formed Business in California or Georgia! 😲
California LLC $37/mo
Texas LLC  $54/mo

Georgia LLC $37/mo
Privacy by Default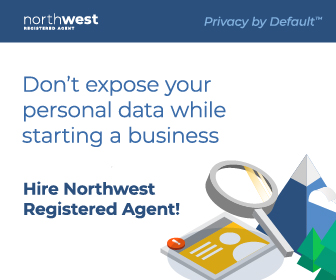 Visit Northwest Registered Agent
---
LegalZoom Business Formations Start At $79 + state fee
Registered Agent Service One-Year $249
---
Summary
We think Northwest Registered Agent offers a better value along with a higher level of professional service. LegalZoom has the brand name, but its prices are high, and LegalZoom's customer reviews need a lot of improvement.
Better Business Bureau Ratings
Both Northwest Registered Agent and LegalZoom have an A+ rating from the Better Business Bureau in early 2021.
LegalZoom BBB Rating A+
---
Northwest R.A. BBB Rating A+
Visit Our Top 10 Best LLC Formation Services 2021
Why Northwest Registered Agent?
They have offices in each of the 50 states and an A+ rating with the Better Business Bureau.
Northwest often ranks at #1 for best registered agent service.
https://top10llcformationsites.com/best-registered-agent-services/
If you want privacy and expert registered agent services to take care of things and not be annoying, Northwest Registered Agent is the place to get your LLC or Corporation started.
Affordable Monthly Plans Available
Step #1 – Enter The Type Of Business 
Step #2 – Select Payment Type – Free, 12 Monthly Payments or Pay in Full 
Step #3 – Follow The Prompts
You can get an LLC formed, including one year of registered agent service, a tax ID number, and have the state fee rolled into the payments for as little as $37.
$37 California LLC
$54 Texas LLC
$37 Georgia LLC
---
---
Texas state fee is $300.
Form an LLC in Texas for $54/mo (state fee included)
---
Since 1998, Northwest Registered Agent has helped many thousands of people realize their dream of becoming the owner of an LLC, corporation, and non-profit organization by providing valuable assistance in registering their companies.
With registration laws varying from state to state and the inherent complexities involved, Northwest Registered Agent has provided the help needed for individuals and partners to get their businesses started quickly.
---
Business Formation Services
Northwest Registered Agent is designed to provide fast, efficient services in helping LLCs, corporations, non-profits, and more create a registered company in their state.
The core of the services offered by Northwest Registered Agent provides individuals who want to register business entities with a registered agent as required by states to create the formation documents.
LegalZoom vs. Northwest
Why LegalZoom LLC Services?

What is LegalZoom?
LegalZoom was founded in 2001 by Brian S. Lee, Brian P.Y. Liu, Edward R. Hartman, and Robert Shapiro, who was most famous for representing O.J. Simpson. Shapiro helped get the company off the ground through his name recognition.
Over the years, LegalZoom has grown considerably in the US and other parts of the world, offering legal documents and services online.
From prenuptial agreements to copyright, business formation, patents, power of attorney, real estate leases, and more, LegalZoom is primarily geared towards individuals and small business owners who need proper legal documents without consulting hire a local lawyer or law firm.
LegalZoom vs. Northwest LLC Formation Prices
LegalZoom's formation prices start cheap, and each of the three plans is missing a registered agent service, operating agreement, or path to get an employer ID number (EIN). These features are available after you fork over some more money in the form of add-ons.
LegalZoom LLC Formation Pricing
$349 'Express Gold' Plan, LLC Filing, Formation 
$159 LLC Operating Agreement + EIN (Add-on)
$249 Registered Agent Service One Year (Add-on)
= $757 + state fee
LegalZoom Add-ons $$$
---
Northwest Registered Agent
$100 LLC Filing, Formation, LLC Operating Agreement Included
$125 Registered Agent Service One Year
$50 Employer ID Number (EIN)
= $275 

Northwest's LLC Services Only


$39 + State Fees 
The price may sound somewhat high initially, but consider that Northwest Registered Agent does more than send a few documents to the state capital.
You are also paying to keep things private. Northwest R.A. promises not to sell your info.
If you want privacy and experts to get the job done without being annoying, these are the registered agents for you.
With the price comes the following services to help your business get started.
Address
You can use the local office of Northwest Registered Agent to be the address for your business in terms of formal contact. This includes the following;
Principal

Mailing

Organizer
This also includes using the address of the agent's office, which helps protect your privacy. This can make a big difference when setting up your company.

Local Corporate Guides
You will be assisted by a trained agent who is fully versed in all applicable state and local laws regarding setting up your business.
This means that when you use the services provided, you will receive the following;
LLC Operating Agreement or LLC Bylaws

Business Filings on the Same Day

Stock Certificates, Memberships, and Resolutions

Full Registered Agent Services
Added Services
For those who need more than merely business formation services, there are additional services that can help.
Initial Resolutions

Custom Drafted Article Services

Full Year of Registered Agent Services
If anything related to the formation of your business, the documents, or if the laws change within 12 months of purchase, you will be adequately represented.
This means that you can take advantage of the additional services provided for up to one year.
At that point, you can decide if you want to stay with Northwest Registered Agent or move to another registered agent service.
There is nothing automated about what Northwest Registered Agent can do for you. This means that once the documents are ready, they are filed on the same business day.
Add to this all the services you expect from a registered agent for a low, affordable price. Plus, there is no up-selling from the agent because there is a single flat fee for the services provided. You get what you pay for with the best service possible.
LegalZoom vs. Northwest (Registered Agent Services)
LegalZoom provides registered agent services for $249 a year, but the experts in this field are, without a doubt, Northwest with offices in each of the 50 states.
Providing Registered Agent Services
The heart of the services offered by Northwest Registered Agent is to help everyday people with little to no experience create legally recognized LLCs, corporations, non-profits, and the like.
They take away the guesswork and cover all the bases for the proper registration of a company or organization.
Most people in the business consider northwest Registered Agent as one of the best, if not the very best, in registered agent services.
They are often listed at the top of best registered agent services.
Price: $125 + State Fees
You get flat rates when you register your business in other states. The current rate is $125 per state for up to four additional states.
After that, it is $100 per state for five or more additional states if you order the services at once.
This means that Northwest Registered Agent will be there to ensure the right documents are filed when you expand your business.

Data Secured
There is little question that is securing data, especially with the access granted by the internet, is paramount in the minds of business owners.
All data sent to Northwest Registered Agent by you is kept secured so that no one else can have access to it. This means no third-party exchanges for cash that result in your information becoming known.
Guidelines for Corporations
With over 20 years in the field, Northwest Registered Agent offers experience in business formation and guidance to help your company stay on the right side of the law.
This means every state, along with federal guidelines, ensures that your company is compliant and up to date with government requirements in terms of business formation, contact information, and receiving documents from government sources to ensure they get to you. 
Northwest Ensures Privacy
Privacy
It may seem a little odd to be thinking about privacy when you are forming your first LLC or corporation.
However, that all changes once your email, mailbox, and phone answering service is filled with messages from solicitors and junk mail that never ends.
Because Northwest Registered Agent keeps your personal address and contact information private, you can focus on running your business and not having to deal with junk mail or endless calls from solicitors.
More than two decades ago, what started as a business opportunity has become a passion for helping everyone who wants to start a company, LLC, corporation, or non-profit to succeed.
This means that Northwest Registered Agent is one of the most experienced and knowledgeable in the field.
For anyone who is looking to start up their own business, Northwest Registered Agent can help.
As part of the services offered by Northwest Registered Agent, they include the following;
Corporate Guides
As part of the services provided, the vast world of government bureaucracy suddenly becomes smaller and more understandable than the guides. If you have any questions, you can call a representative at Northwest Registered Agent and get answers right away.
Documents Scanned Locally
All documents received at the office of a local registered agent service are scanned to assure proper quality control, availability, and customer satisfaction.
Fast, Personal Service
National Registered Agent is designed to be fast, personal, and complete in response to customers.
From filing all forms quickly to allowing quick access to your current information, the emphasis is on providing the right services designed for you.
FAQ
For those who are interested in the services provided by Northwest Registered Agent, here are a few frequently asked questions about what they offer along with online LLC services in general.
Am I Required to Hire a Registered Agent?
If you want to comply with state regulations, the answer is yes. While it may seem unnecessary to some people, the registered agent is a valuable resource as recognized by state and federal authorities.
Without a registered agent, your business will be in a great deal of trouble if it needs to be contacted for any reason by the government.
What do Registered Agents do?
Called Articles of Incorporation or Articles of Organization, the purpose of the registered agent is to create and file formation documents with the state to become part of the public record.
It is a necessary step to creating LLCs or Limited Liability Companies, Corporations, Limited, Partnerships, and non-profit organizations.
Why are Registered Agents Required?
When the state or federal government wants to contact a business, they will find the registered agent information in the public record.
When Northwest Registered Agent receives such documents from state or federal agencies, they will promptly forward them to the business owners.
Registered agents are required to provide proof that a business has been formally contacted.
An example is a lawsuit that cannot proceed until a registered agent has verified that they have been officially contacted.
Why Can't I Be My Own Registered Agent?
In some states, you can be. However, there are drawbacks due to the added responsibilities of being your own registered agent.
Your personal address and contact information will be made public

You can be served with a lawsuit personally in front of your employees

You must update any new information yourself

You must be available during working hours every business day

If your business runs across more than one state, you may need to hire a registered agent
In essence, by acting as your registered agent, you are adding a burden that may interfere with the running of your own business.
Plus, the fees associated with keeping a registered agent are quite low.
What to Look for in a Registered Agent?
If you have decided to hire a registered agent, then you should look for a company that has a stellar reputation for service, including customer services, reasonable fees, and offers a range of services broad enough to cover your needs.
Since 1998, Northwest Registered Agent has built its reputation serving business owners who run small, one-person companies up to large corporations and non-profit organizations.
Northwest Registered Agent provides the right services to handle all aspects of how a registered agent can get your business started, make the necessary changes to your business filings, and receive subpoenas discreetly, so you can be informed immediately without notifying your employees.
It's why Northwest Registered Agent should be your registered agent when starting up a business.
LegalZoom vs. Northwest Registered Agent 2021
With pricing, features, experience, and reputation considered, our favorite is Northwest.
https://www.northwestregisteredagent.com
---
More Articles,
Northwest Registered Agent Review